Hand polished brass and plated in 18k gold, the Bari Gold baritone saxophone mouthpiece produces a clear, yet intense sound that will enhance the sound of any saxophone player!

Designed to provide great power and projection, the Bari Gold saxophone mouthpieces will cut through live or studio mix.

Bari Alto Saxophone Raptor ...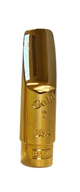 Bari Tenor Saxophone Gold M...