The Bari WTII tenor saxophone mouthpiece is has a unique facing that was replicated from the original Otto Link.

Designed with a medium-large chamber, the Bari WTII saxophone mouthpiece produces a dark and edgy tone.

The Bari WTII saxophone mouthpiece is made from hand-polished brass, plated in 18K gold, that will provide an amazing sound and projection.

Bari Soprano Saxophone Gold...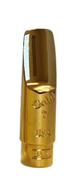 Bari Alto Saxophone WTII Le...